Never Give Up, Never Surrender: Patch 6.82 Initial Reactions
Galaxy Quest: arguably one of the best movies of all time. Arguably.
RIP Dota
Previously, Kawaiisocks covered in detail some of the biggest hero changes in this patch. We purposely omitted talking about one of the biggest upheavals of Dota in its history: the changes to bounty experience and gold. In short, to summarize the arithmetic, you gain more gold and experience when you are behind. This makes it easier to come back from a deficit than before, and in early 6.82, often times one team fight could excessively rebound your disadvantage to an advantage.
An early 6.82 game of mine with Spectre. An abandon gave the enemy team a significant XP and Gold advantage, but the kill XP/Gold mid game put me in the threshold for some crucial items. One kill rocketed my gold from 3k to 5.5k. Just within reach for that Radiance.
Since then, 6.82 has undergone further refinements, scaling back the rewards for netting a kill from behind. It will take some time before we can make any conclusions about the patch, but it's no question that the spirit of these changes have altered Dota more than any other patch in recent memory. Let's take a look at one of the largest benefactors of 6.82. Take a guess whose these next graphs these belong to.
The Next Faceless Void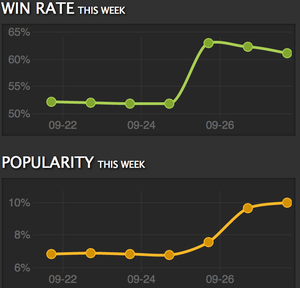 Spectre's win rate and popularity graph
Spectre received a minor buff to
Spectral Dagger's movement speed, but it doesn't account for one of the largest increases in win rates we've seen for any patch. Her win rate has increased from 51 to 62%--at one point being the winningest hero in the game (that position is currently held by Omniknight. More on that later).
Patch 6.82 rewards killing when you're at a deficit. And whether you're ahead or behind, Spectre is one of the best heroes to clean up a team fight. Her ultimate,
Haunt, allows her to engage in any team fight. Her builds are flexible--you can favor an urn/drums/phase boots build or go greedy for that quick Radiance. But what has changed is that now you have the time and money to get what you need.
With 6.82, there's this omnipresent feeling that if you're in the lead, you're on thin ice. One spoiled team fight can turn a game, and Spectre can take advantage of any opportunity that comes up.
Phantom Assassin's win rate
Phantom Assassin got a rework to
Blur, but she is not only the beneficiary of the changes to the late game, but also the nerfs to
Doom and
Duel, which no longer disable passives. Her win rate has risen from 47 to 52%. Will she be the next Faceless Void?
The New King of Pubs
We'll have to wait for the dust to settle before we stitch together a Pub Tier List for 6.82, but for now I'm sure Sir Action Slacks will be happy to see that Omniknight currently sits as the hero with the highest win rate at nearly 64%.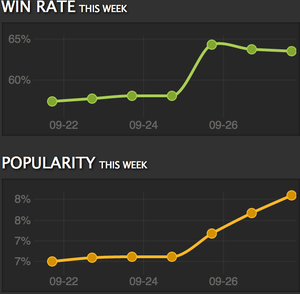 Again, like Spectre, Omniknight's buffs were minor, like a nudge from Icefrog saying, "remember me? I'm a good hero." Of course, we all know Omniknight is a good hero. In 6.81, he was 3rd in win rate at 56%. But perhaps due to laning dynamics he was rarely seen in competitive play.
If we think about how 6.82 rewards greedy picks and late game heroes, Omniknight is one of the premiere late game supports. His ultimate scales into the late game, barring enemy
Diffusal Blades, and his kit is always useful. With BKB limited to 5 seconds and unable to be refreshed, Repel becomes one of the strongest spells in the game.
Most importantly, Omniknight keeps your team alive. He keeps your carry alive for that delicious bounty gold and experience. Pubs have always underestimated Omniknight's skills. They're bemused when they cant cast spells on a repelled hero. They try to right click under
Guardian Angel. And now in 6.82 those errors will become even more disastrous.
The Losers
Post TI4, Tinker got the Morphling treatment after TI3. edit: Morphling nerf was after TI2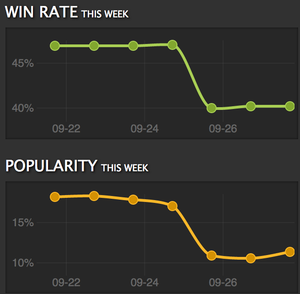 He received nerfs to
Ethereal Blade,
Dagon, and to cap it off, he can no longer farm ancients. Many pros agreed that he deserved some changes, but he's now in a pitiful state, sitting at a win rate of 40.16%, right between Enchantress and Earth Spirit at the bottom.
Next is another pub favorite: Nature's Prophet.
His win rate dropped by 5% from 46 to 41%.
Nature's Call received a nerf to magic resistance, but what really happened was that towers got stronger. Less gold for towers, a new fortification after every Tier 1 tower, and stronger Tier 2 towers reduced his potency in the early and mid game.
We also see similar drops in win rate across other pushing oriented heroes, such as Pugna (48->45%), Enchantress (42-40%), and Chen (42-40%).
One final graph that I'm happy to post: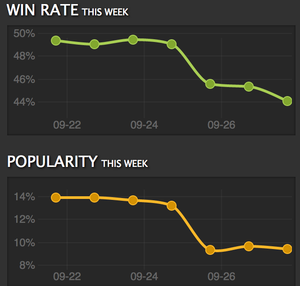 Doom's plummeting win rate
Doom no longer disables passives, and an increase to its cast point makes it harder to hit blinking heroes. KawaiiSocks has talked about how this change to Doom (and Duel) is underestimated. It's an indirect buff to heroes like Anti-Mage, Spectre, Phantom Assassin, Faceless Void....dear god...maybe one day we'll wish we had the old Doom back to slap these heroes around.
Balanced Heroes
We didn't get any new heroes this patch (though Techies may be enough for awhile), but several heroes got complete reworks: Riki, Bloodseeker, and Phantom Lancer.
We'll wait a little to give a more extensive review on their ability builds. However, there is one new, notable mechanic.
There are many combos that can instagib heroes, but few can pop every hero on the map. It seems like an auto win for Zeus+Bloodseeker, but currently Bloodseeker has seen the largest drop in win rate of all the new hero reworks, dropping from 52 to 47%.
New Meta
Whether we like these changes or not, we're still going to play the damn game. In some ways it's more fun to feel like you can win a game that seems lost in the first 10 minutes. Some may criticize the patch as making Dota more casual, more like another game, but Dota did have its moments where a game was lost early, and the rest of the game felt like a slow, excruciating end.
At TI4 we had shorter games than any other tournament. The final game ended before any towers were taken. As a spectator and a player, the best games are the ones that go back and forth, filled with tension throughout. This patch seems to be enabling that spirit. We've yet to see whether these changes will result in safer, farm fests, or whether the rubberband mechanics will result in dynamic, rousing games. Either way, it will be something new, and something to look forward to.